CONTACT US
CHAT WITH US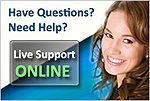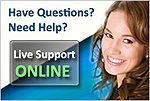 Live Chat Hours:
Mon-Fri: 8:00 AM to 7:00 PM (CDT)
Sat-Sun: 8:00 AM to 5:00 PM (CDT)

CONNECT WITH US
Contact us through our friendly Social Media Platforms; you'll be amazed at our Fast Response Times!
IF YOU DON'T GET THROUGH ON THE TELEPHONE
If you don't receive an answer at this number, we are likely just on the phone with other customers. It is also possible that are our phones may be down - this happens sometimes in Puerto Vallarta. If you don't get through, you can either try back later (recommended), leave us a message, or you can shoot us an e-mail containing your phone number and we'll call you back just as soon as we can wrestle the phone from our ear for a moment. Sorry for any inconvenience.